Original Stormtrooper Helmets and Armor from
The Empire Strikes Back
So when Lucas returned to Star Wars in 1978/79 for The Empire Strikes Back, he again returned to EMI Elstree Studios in leafy Boreham Wood near London. However despite the enormous success of the original movie, this was still an incredible risk for Lucas since he had decided to fund the movie himself. Now a fully-independent film maker, he was going to have to pay for everything himself.

It may therefore be for that reason that so many of the costumes in ESB were reused from A New Hope made just a few years earlier. After all, why pay for more if you can make do? So the Stormtrooper helmets and Armor we see in ESB is merely re-used ANH armor, with some minor modifications.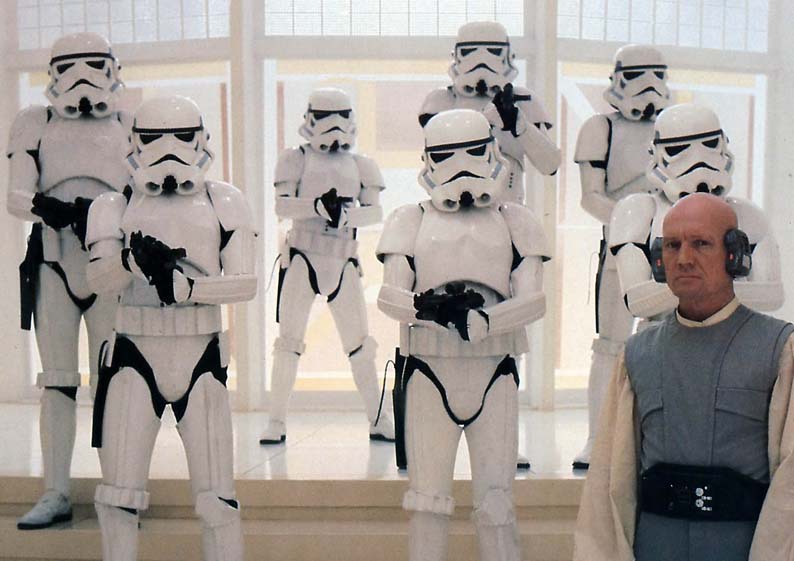 This section is split into four parts.....
If we look at the ESB Stormtrooper helmet, we can see that this is clearly one of the "Stunt" style Helmets from A New Hope (i.e. a vacuum formed Khaki-coloured HDPE helmet, painted white), which has had a slight make-over. By this we mean the frown has been painted black, and the hand-painted detailing has been replaced with stick on vinyl-decals. In addition you may notice that the eyes look slightly bigger, as the plastic around the edge was trimmed a little.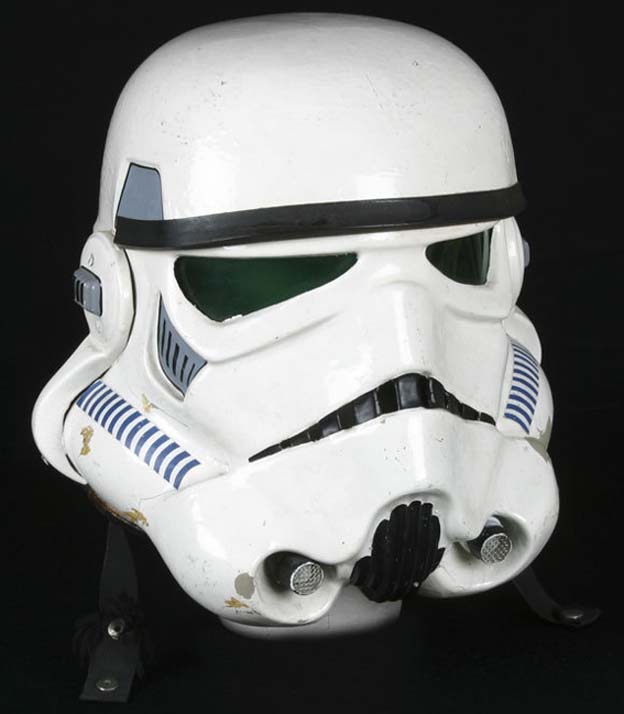 However, to be clear - this IS an ANH helmet (and if you looked hard in the original movie you might find it), its just its also been re-used in ESB. There were a few minor alterations to the armor to allow the wearer a slightly greater degree of movement, but perhaps the most obvious difference are the redesigned hand-plates.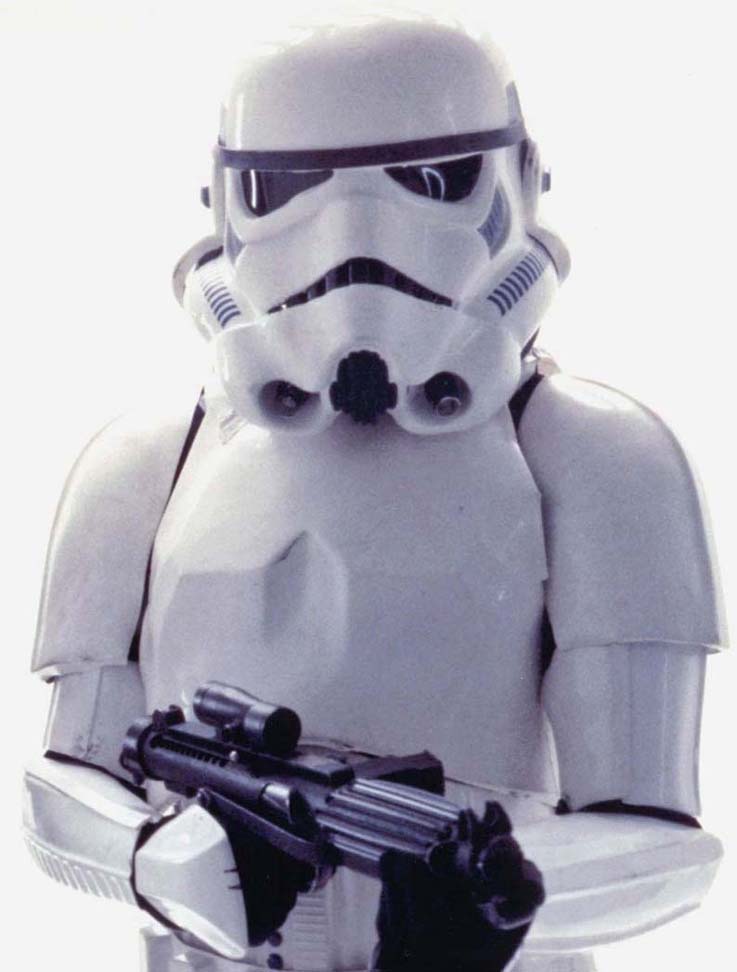 It therefore wasn't until Return of the Jedi, made three years later - that "new" Stormtroopers would actually be required. For that they had to recast a complete ANH/ESB suit and helmet - but we'll talk about that later in the RotJ section.

Update October 09 - We've added a section detailing whether around 3 new sets of Helmets and Armor could have been made for The Empire Strikes Back - see here....

So back onto ESB and a promo shot of Leia and three menacing looking Stormtroopers....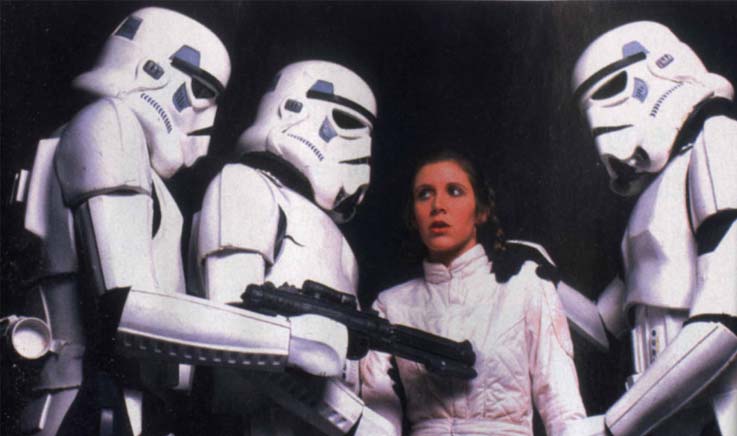 Not to confuse things but of the 12 Stormtrooper helmets reconditioned for ESB, ONE was a hero (and therefore 11 were Stunts). However its incredibly difficult to pick him out so we'll just have to wait for the upcoming Blu-Ray release before we can ID him properly.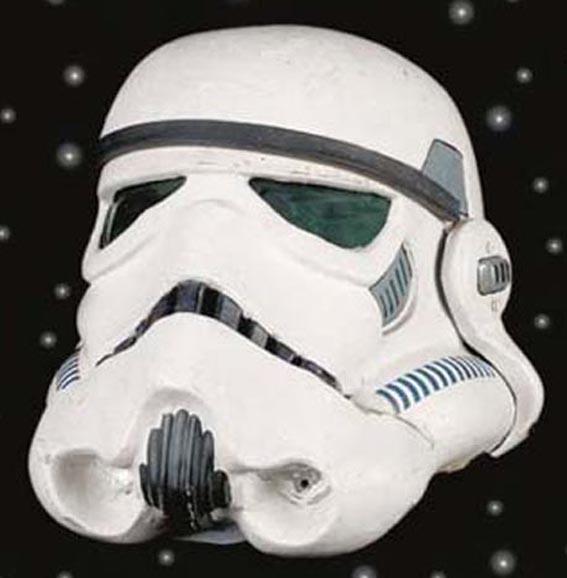 Two of three of these helmets have turned up in auctions over recent years. The first of these was one sold by John Mollo, who auctioned off a few pieces of memorabilia at Christies back in 2003. Its condition was fairly good although its missing its mic tips. The sale details were..."9771, Lot 203 A prop Imperial Stormtrooper's helmet—made for the 1977 20th Century Fox/Lucasfilm production Star Wars, from the collection of John Mollo. Estimate: £3,000-£5,000"!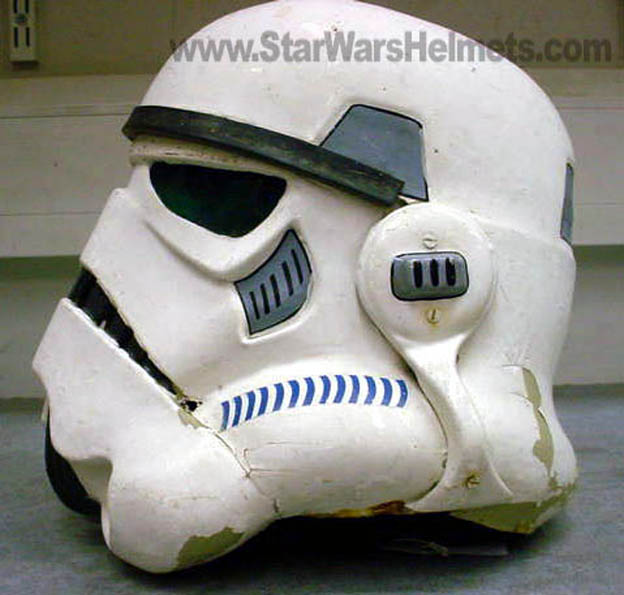 As you can see its definitely ESB. Even ignoring the obvious give-away black frown it also has pre-printed decals (in place of the ANH hand painted detailing) which were present on the ESB trooper helmets and you can see how the eye sockets have been cut back slightly.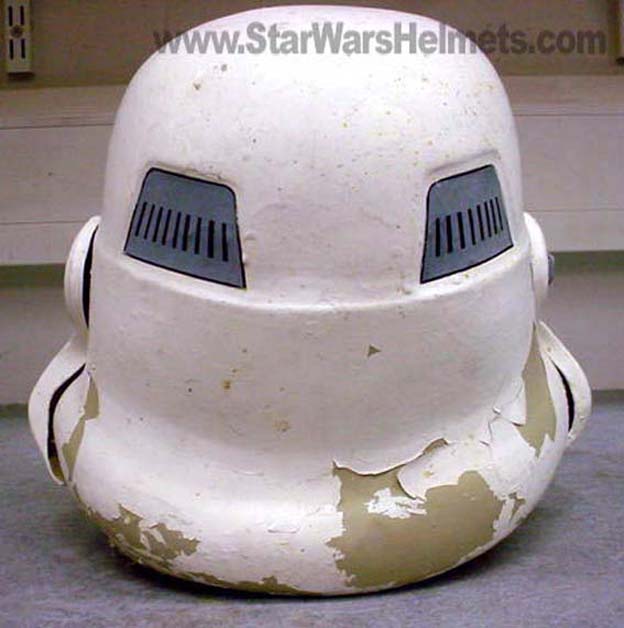 From this shot you can see how the sprayed-on white paint has flaked away revealing the khaki-green HDPE plastic underneath. If you were to strip down any of the Stunt helmets from ANH they would completely look like this. Looking at the helmet face on the asymmetry of the helmet is clear, especially when you look at the larger and more bulbous right hand tube (as your looking at it).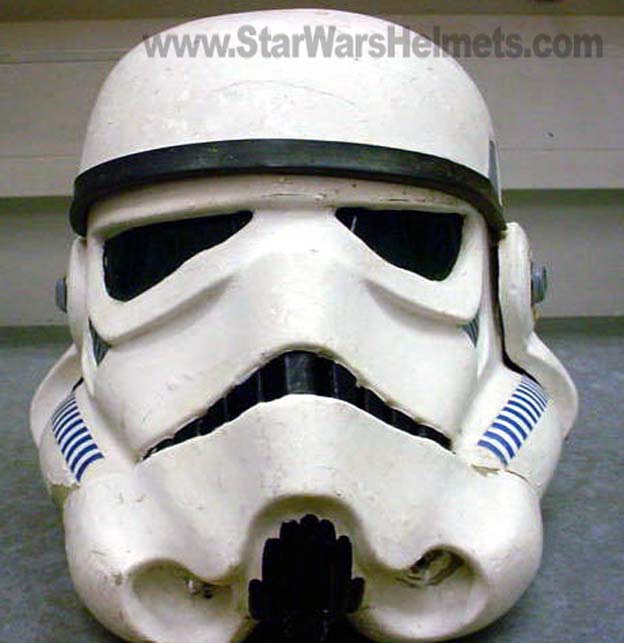 The Christies description continues.. "According to John Mollo, this helmet was made for Star Wars in 1977 and was used in the film . This painted helmet was apparently retained as a sample when new "Mark II" helmets, made of white plastic, and as such unpainted, were made for The Empire Strikes Back, 1980. The condition of the helmet is explained by the fact that John Mollo's children and their friends used to play with the helmet when they were small! " Note that the "Mark II helmets" sentence is incorrect as all the ESB's helmets were reconditioned ANH's. No new helmets were made until RotJ was in production in 1981. Perhpas Mr Mollo could have been referring to the six white-ABS Hero helmets used in ANH?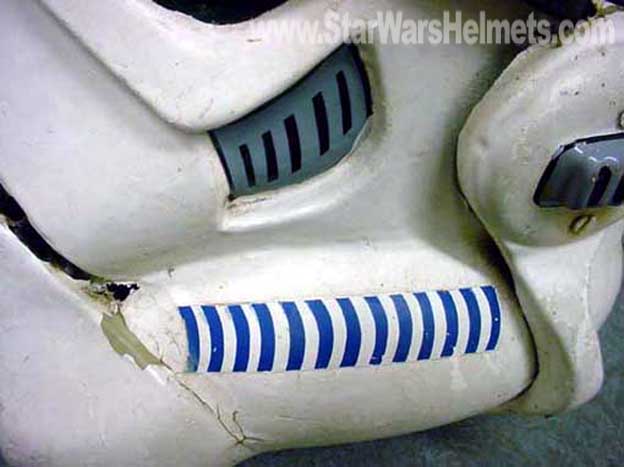 Above, as you can see the overall quality is very good, especially the front. Notice how sharp the detailing is under the eyes and how deep the tear sections are - and also the "pinching" of the HDPE on that tear. You can also see how the decal in the tear is peeling away slightly. Remember the original ANH helmets were hand-painted, for ESB they replaced with decals.

In the photo below you can see the hand painted ear piece, and two of the bolt heads that held it in place.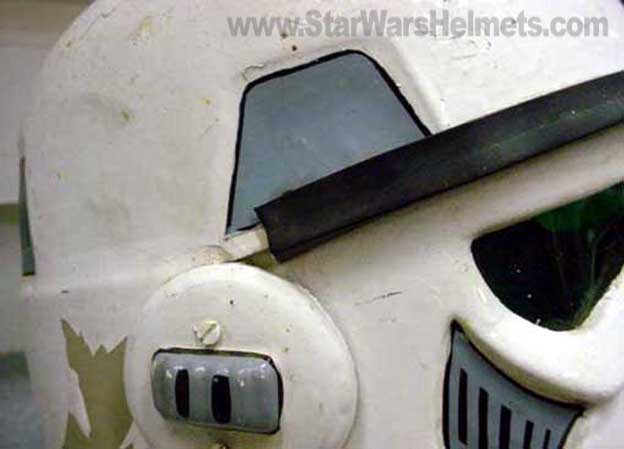 Above, close up of the left ear showing the brow trim and the decal details, and below a final shot showing a close-up section of the vocoder area and the (missing) aerators. You can see how the bolts from the mic-tips secured to the inside of helmet.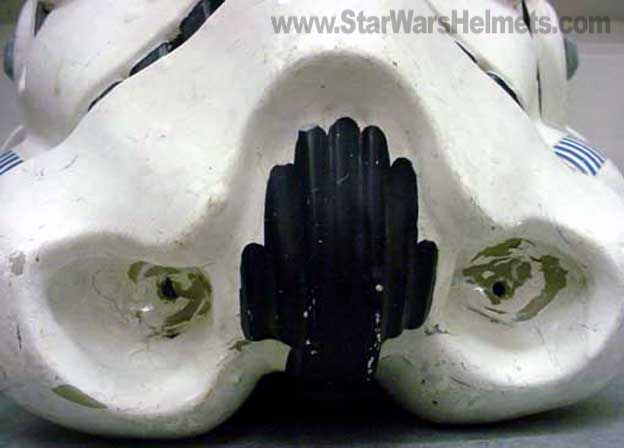 Another ESB Helmet Find....
The following year in 2004, another ESB Stormtrooper helmet was sold off at Christies, and this was was in even better condition - save one caveat, a big black patch glued it its rear!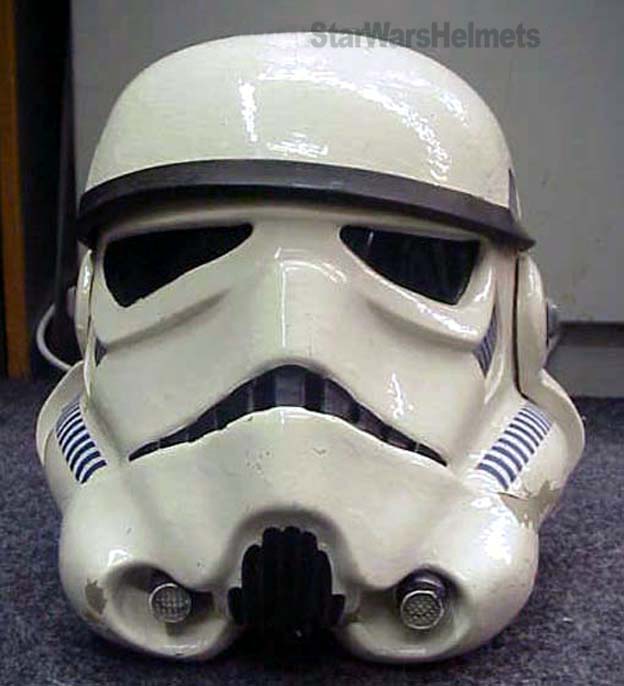 So as you can see its another khaki-coloured "fishpond" Stunt HDPE helmet (Polythene) which was originally produced for Star Wars - A New Hope in 1976, then reused for The Empire Strikes Back in 1979.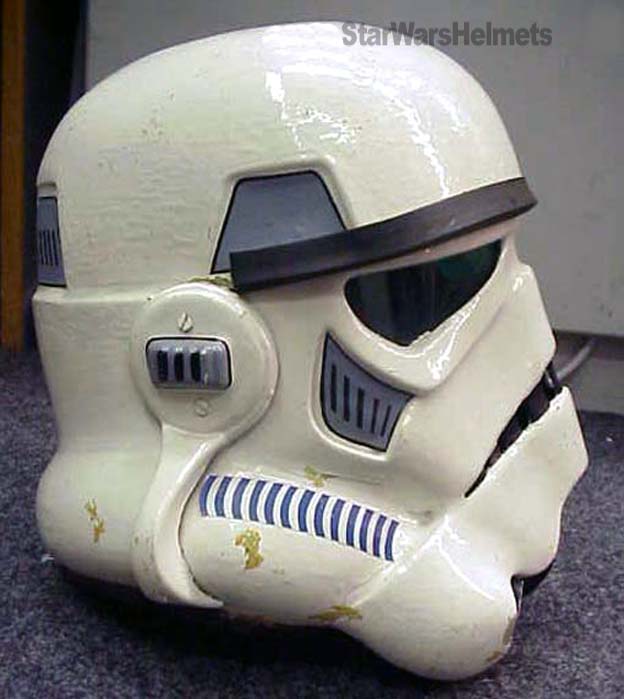 It looks like it may well be one of the dozen helmets that was "modified" in 1978/9 apparently by Eltree's Art department for The Empire Strikes Back. It looks to be in wonderful condition. Apparently the owner bought it in a "car boot" sale in the South East of England in 1993 years ago for "a few quid". That sounds like a great excuse to scour the car boot sales of England.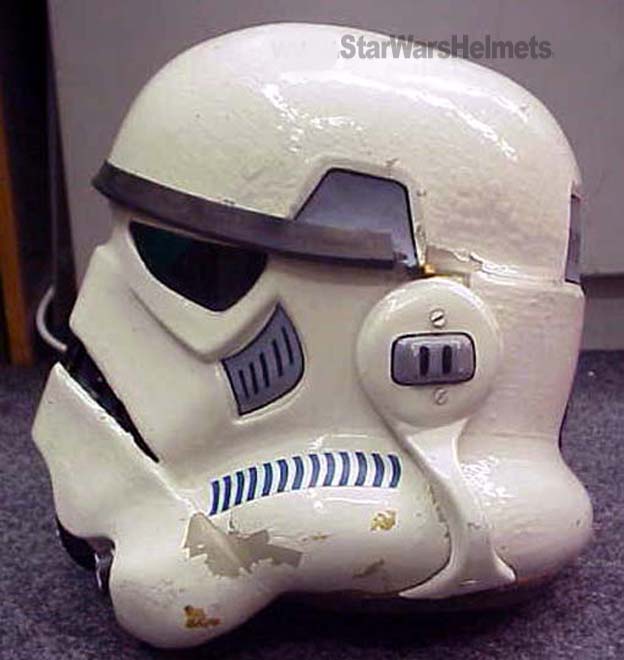 And finally below to the scary image.... At some point in the last couple of decades, someone decided to stick a fabric Star Wars badge to tits rear. Oh and I can confirm its well stuck down since I did try to ease it off - man that sucker is stayin' on!
However, even with the badge, its still a fantastic find.
Below are a couple of side-by-side comparisons of the "Badge" helmet (left) against John Mollo's helmet on the right.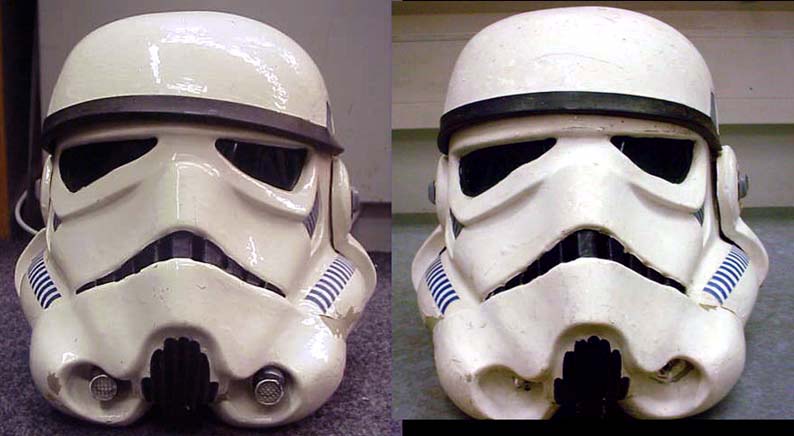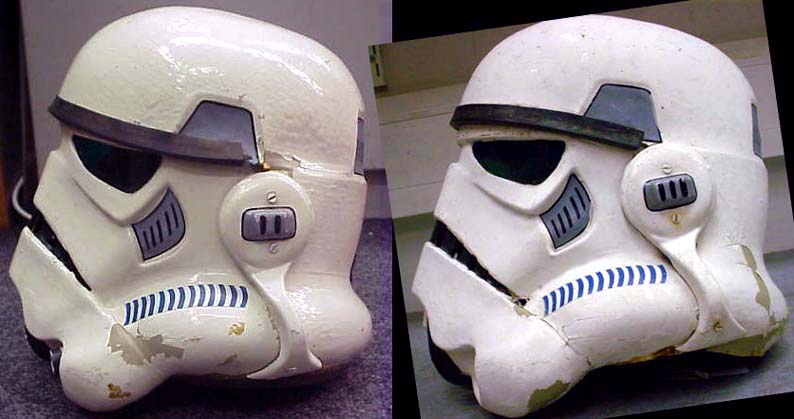 We've added a separate section detailing this great helmet find, where we look at it in even more detail - including how we've been able to place it in the movie (below). In addition there also a video!

So click HERE for the detailed Photo section on this Original screen-used ESB Helmet.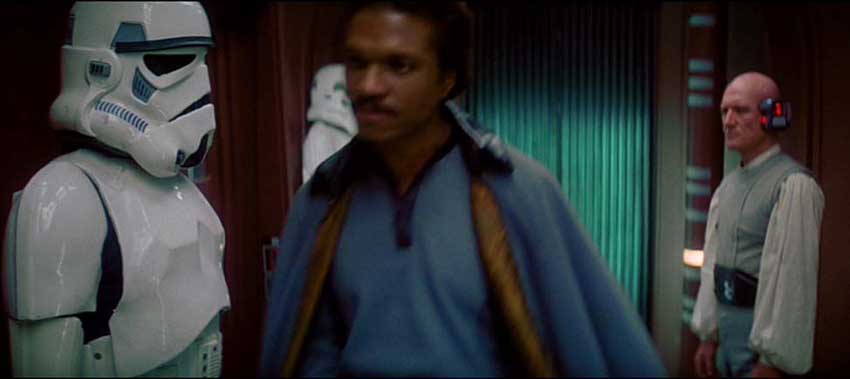 ESB "Type 2" Stormtrooper Helmets
A few years back, following some forum activity about a "different" ESB Stormtrooper helmet we did an investigation into whether some entirely new Stormtrooper helmets and/or parts were made for ESB. To read up on this, including our discussions with Costume Designer then go here...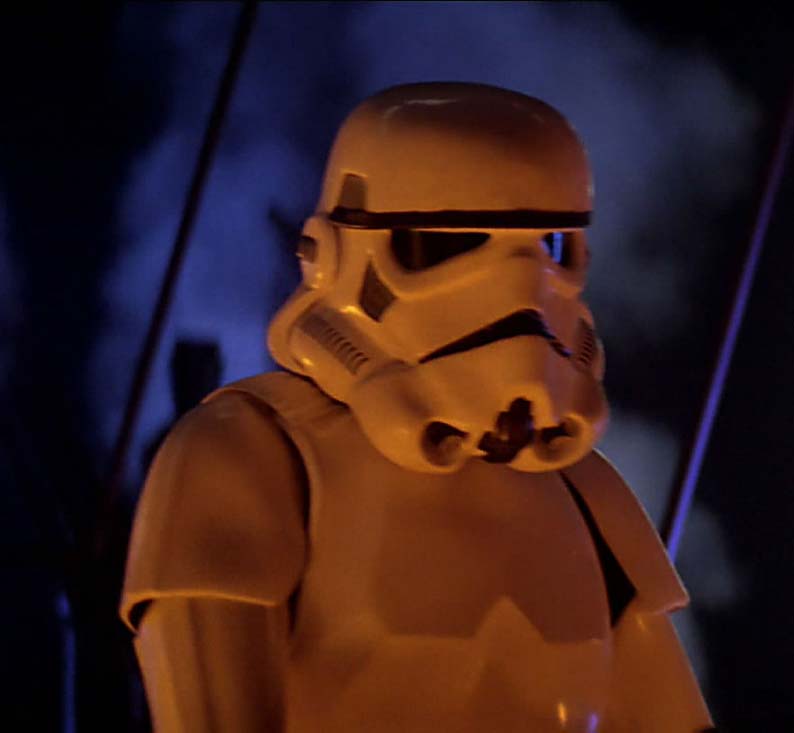 However, f you're the kind of person who skips to the end of books then the answer is yes (sort of). They DID create some new helmet and armour parts for ESB and this helmet (above and below) appear to be that helmet. We're not aware of any more though.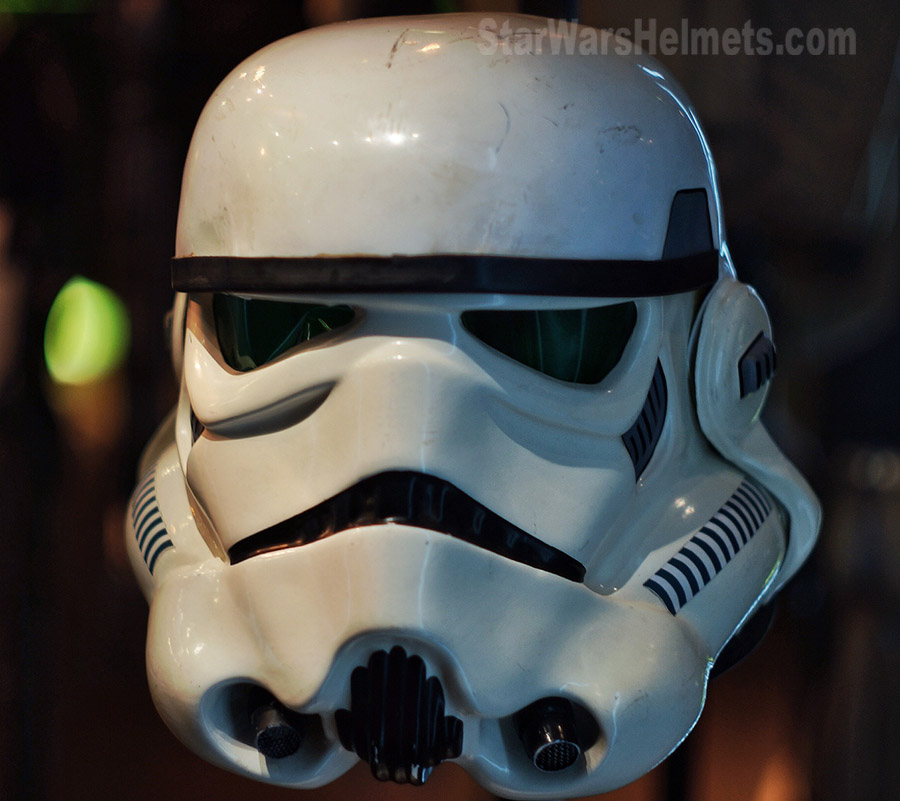 Basically the Art Department at Elstree made of cast of the helmet and armour, which has a slightly more "RotJ" look about it. This the became the basis of the helmets and armour used in Return of the Jedi - with just this one helmet used in ESB. BTW these great new shots above and below are from Tom (Big T) from The Prop Den. His photos were taken at an exhibition in Paris.