Help and Navigation
Ok, well you're here to look at Star Wars stuff right?
Star Wars Helmets.com has grown over the last fifteen? and to be honest has become somewhat of a beast. I have tried to maintain its structure and hope that you'll be able to navigate yourself around the different sections using the icons on the left hand side of the screen.
Basically there are THREE different kinds of helmets and costumes:
1) Fan Made - The majority of the helmets and costumes on this site are not made by huge corporations churning them out on a production run, but by individuals who have either sculpted their own or preferably cast them off an original screen-used helmet. To explore all the wonderfully different types of helmets click on the

Icon which will open up another page with them all sub-categorised. There's also a

Icon as a shortcut to the trooper helmet and armor - since that's often what people want to see first.
2) Licensed - Don Post

, Altmann's

and Rubies
have at one time owned a specific Lucasfilm license allowing them to mass produce official Star Wars Helmets. Click on these icons to see the various helmets these companies have produced.

3) Real Props - Click on this button

to open up a whole section devoted the Real screen-used helmets and costumes used in all the Star Wars Movies which will hopefully help explain who made what and how.
Other areas of Interest:
4) Comparisons - Want to know the difference between a Stormtrooper from "A New Hope" (ANH) and one from "Return of the Jedi" (RotJ), or how a Don Post Deluxe Vader compares with a 20th Century Empire Strikes Back? Then click on the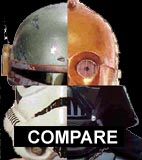 Icon which will open up a range of options.

5) Do It Yourself - If you're into building or painting your own helmets (maybe a Boba Fett) then check out a couple of Tutorials via the

icon.

6) Disney-MGM - This section is all about the wonderful Star Wars Disney Weekends which take place in Orlando Florida every May/June and is access via the

icon.

7) Mini Helmets - I've recently added a section showing off the Riddell miniature helmets that were made a few years back, accessed via the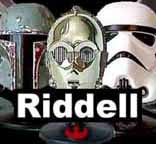 icon. This also includes some fan-modified versions.
8) Chroming - this page accessed via the

icon covers the trials and tribulations of Vacuum Metalising which is a form of metal plating - often a complex process and not the the feint hearted.

9) The Dark Side - Think of this

icon as taking you to a section devoted to what happens when costume projects go seriously WRONG!!!
10) Events - Clicking on this icon

takes you to a page with some of the interesting Events I've been to such as the WW 501st Disney-MGM Parade's etc.
11) Links - Self Explanatory really but click on
for some more great SW sites