Rubies Supreme Stormtrooper Armor
Here are the publicity photos of Rubies Supreme Stormtrooper costume. Helmet aside it looks quite good doesn't it?. The Stormtrooper Supreme (sounds like a Chicken dish) followed on from their successful Supreme Vader and Chewbacca costumes launched a couple of years ago. Pricing wise its expected to be around the same $850 mark so aimed at a more "serious" market than their standard wares. From these early publicity shot of their prototype, they've gone for a RotJ design which does look fairly accurate - and certainly a vast improvement over the standard FX Armour still used by the majority of 501st members around the World. However at the time we were very wary that this was a prototype!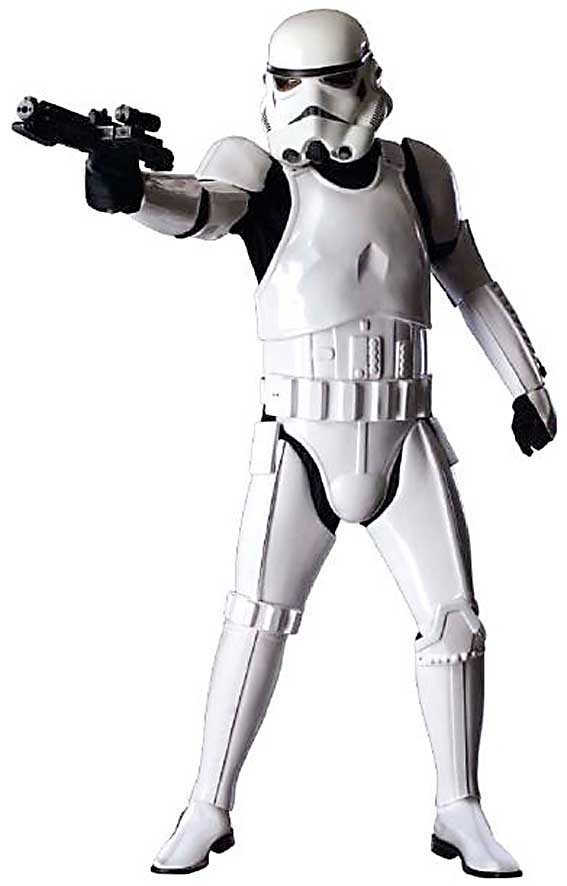 Helmet-wise, in the photo Rubies looks to have used a fiberglass Don Post Deluxe helmet - presumably just for this photo shoot. You can tell this quite clearly from the new close-up shot below. If this helmet is carried over to the finished product I would expect that either they'll produce a "Classic Action" type version of this in vinyl. For more info on the Don Post Deluxe/Classic Action this check the DP page here
Given the Classic Action used a slush mould and produced Latex helmets I'm wondering if Rubies are going to go a similar way for the whole costume. If not latex then we could expect them to use a similarly soft and flexible plastic for the armour that can withstand more rough usage (and therefore be less of a customer service/returns issue).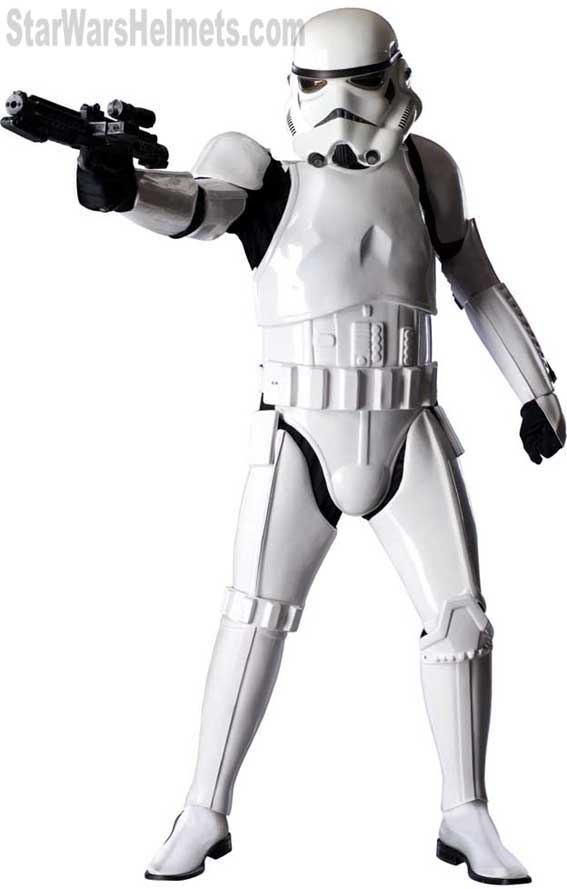 Above, a better photo of this new "Supreme" costume and this time I've adjusted the armour a little to remove the annoying "round neck" that made the chest section look wrong. It looks to me from the original shot that the armour was not being worn correctly - hence a CG "adjustment" gives a much more accurate overall appearance. Below a close up of the chest piece and shoulder bridges.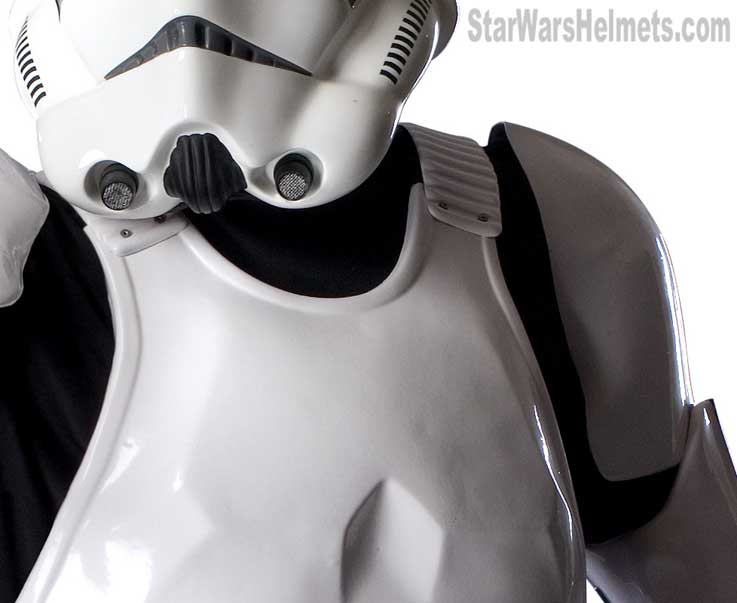 Taking a close-up look at the armour it does look very promising. The chest section has the nice "lip" around the edge and the ab section, though missing the painted buttons it has good definition.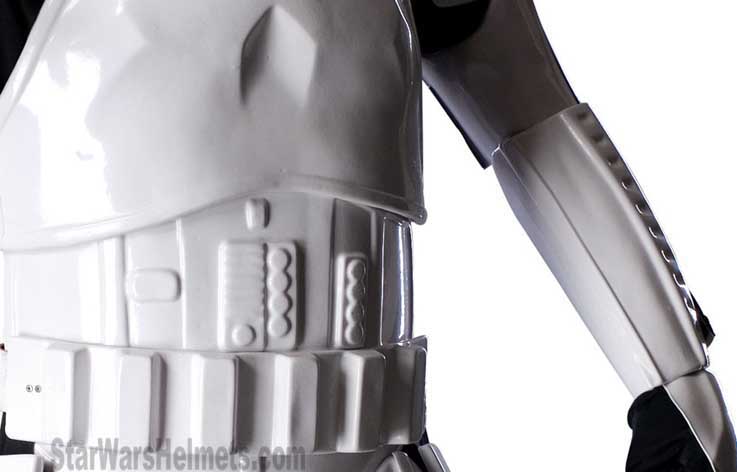 Taking a look at the arms, the bicep seems to show the "thumb print" found on the originals and the forearm has good definition. All this points to a cast off an original RotJ set which is great news.

Below legs look really defined and the detail around the knees is very good. In addition you can see the nice sharp join down the front of each shin which from this photo suggests the armour looks more like ABS. At this stage this has not yet been confirmed so keep checking back for updates.
In Rubies' literature its described as "Jumpsuit with molded armor pieces (chest and back pieces, codpiece, belt, shoulder and bicep pieces, gauntlet, thigh and shin pieces) and collectors edition helmet. Size Standard."

Given Rubies has done something no licensed provider has ever been able to do before, we wondered if this was going to turn into a very important development for the hobby.......

Oh dear - how wrong we were. This is what actually arrived!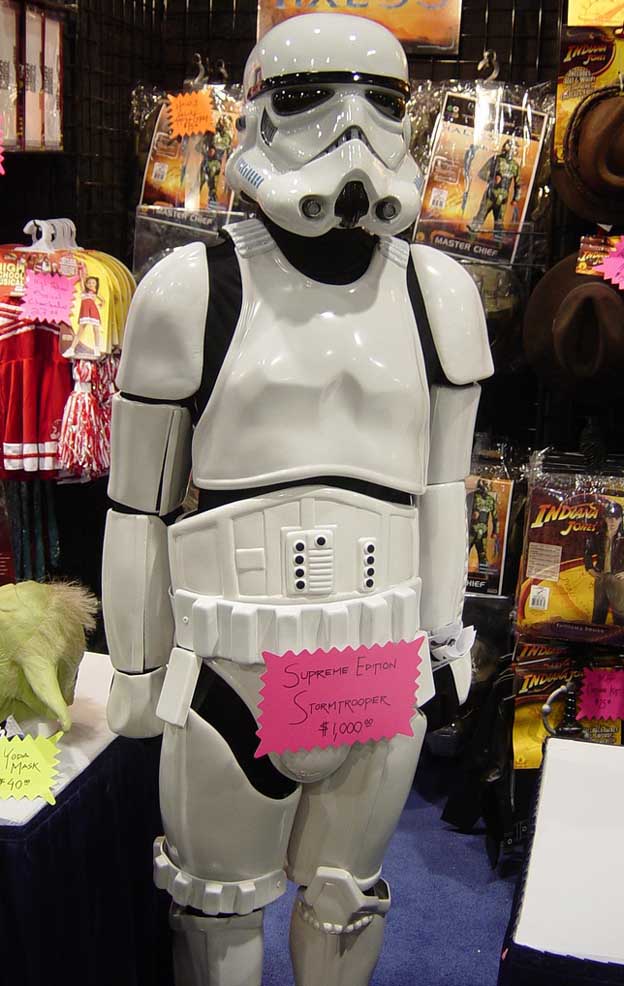 Hmmm, not good news on the Rubies front, amongst all the High School Musical and Indiana Jones dress-up kits these new photo's from ThayNerd, Journeymanproctor and Burge at a recent trade show illustrate what the new Rubies armour is going to look lie "in the flesh"!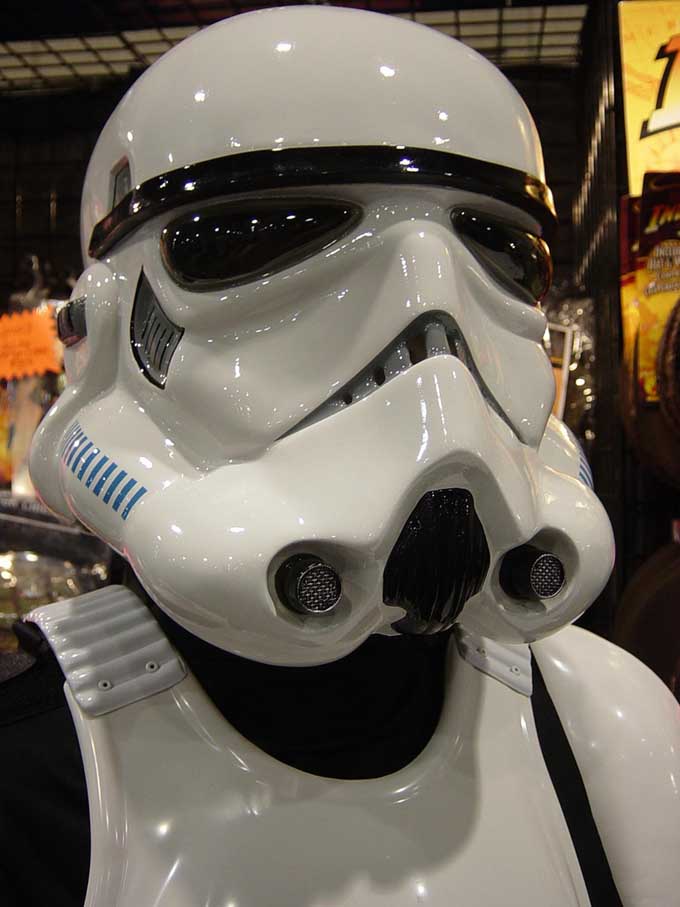 Though Rubies has used the Don Post Deluxe mould for the helmet I'm not quite sure what's gone on as it does not look right in these shots. This photo does look like its been taken close-up (and therefore the lens has distorted its appearance) but it has raised a number of question marks!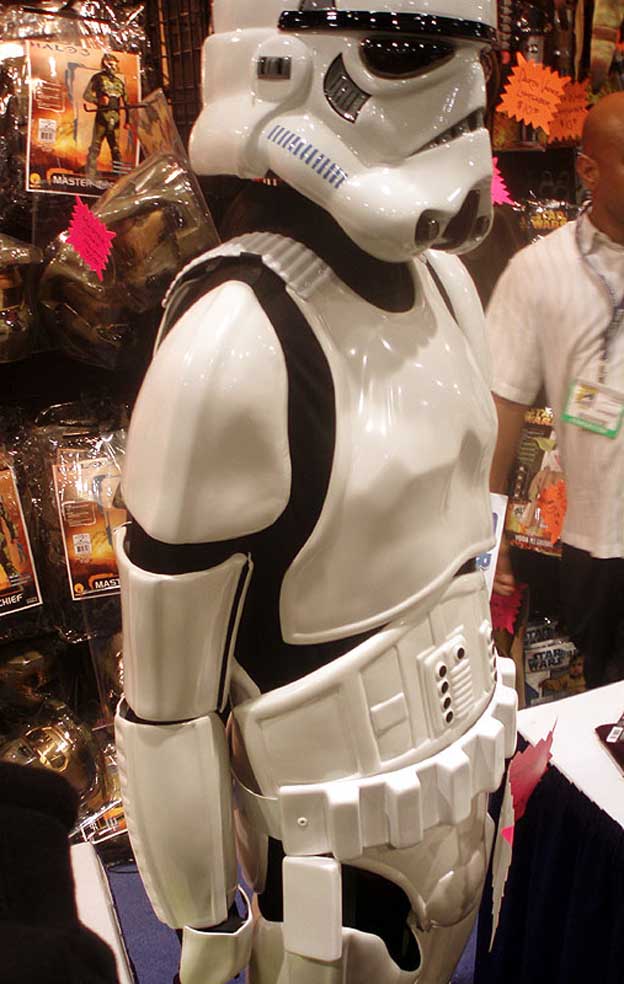 According to reports the armor looks to be made of a softish plastic materials that may help the flexibility that infrequent costumers like - but doesn't really lend itself to a clean crisp finish.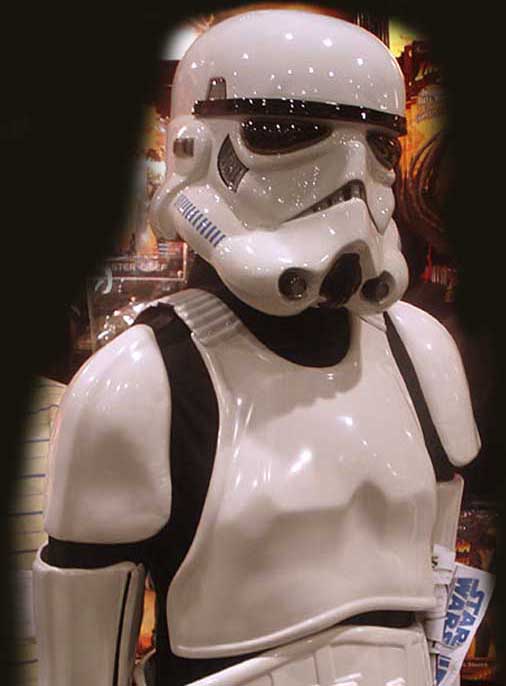 A few 501st members have gone for the Rubies armor but have had to make a number of changes in order to make it acceptable to 501st standards. We'll add some shots of the modified armor in due course.

Here are some shots of the helmet alone - as you can see is clearly Rubies has used the old Don Post Deluxe/Classic Action as originally thought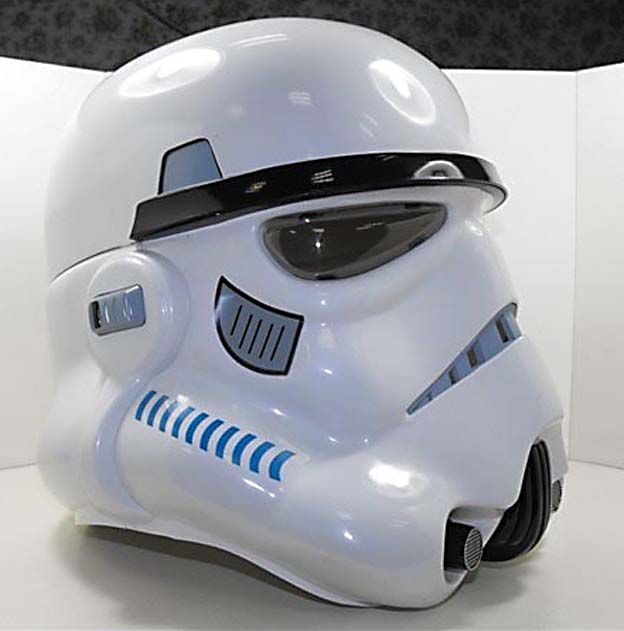 From the side it doesn't look too bad, although from front on the goggle eyes ad soft appearance makes it very un-Stormtrooper like. Remember price-wise this would be about the same as the Master Replicas Collectors Edition helmet and frankly there is no comparison.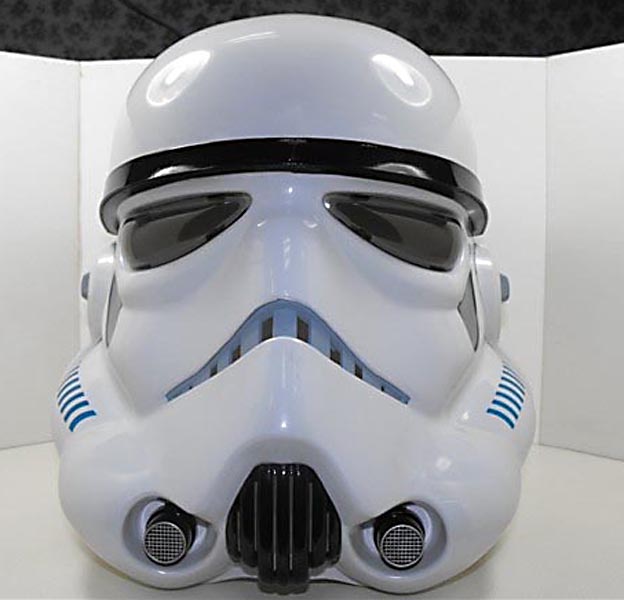 Below, it looks like its manufactured from some kind of plastic through vac-forming. The mic tips look quite good though!
...and finally below the "Standard" Strmtrooper helmet from Rubie's. This one like the Standard Don Post was slush Moulded using Latex. Ahhhhh, nice little puppy-dog. Woof woof.