StarWarsHelmets.com Interview with
John Mollo - April 2005
In order to try and make this site as informative as possible, I've taken the opportunity of interviewing some of the original artisans, prop makers and technicians who worked on the original Trilogy in the 70's and 80's. Elsewhere you will see a couple of interviews with Brian Muir, the artist who actually sculpted Darth Vaders helmet and armour for A New Hope way back in 1976.
Here's a piece on John Mollo, the Oscar-winning costumer Designer for Star Wars and Ghandi, who was also responsible for costume design for The Empire Strikes Back, Alien etc.
---------------------------------------
So how did you get involved with Star Wars – what was you background?

My background was based around military history, having worked on a number or period pieces like Charge of the Light Brigade and Nicolas and Alexandra

I had just finished working as historical adviser on Stanley Kubrick's Barry Lyndon when Milena Canonero asked whether I was interesting in working on an untitled new science fiction film. Since I had just finished the work for Kubrick I thought I'd investigate further and met George Lucas at Elstree Studios in Boreham Wood over the Christmas of 1975.

We discussed a few concepts when I joined the team and George had a clear vision of what he was looking for. He liked the idea of the baddies having a fascist look about them, with the hero's reflecting the look of hero's of the American (wild) west

So what were the design processes for the original costumes?

Ralph McQuarrie had already come up with a number of production paintings which were a good start as they established the overall look of the film they were after. In the same way that for a period film you would use paintings by Gainsborough and Turner to set the tone, in this case they had McQuarrie.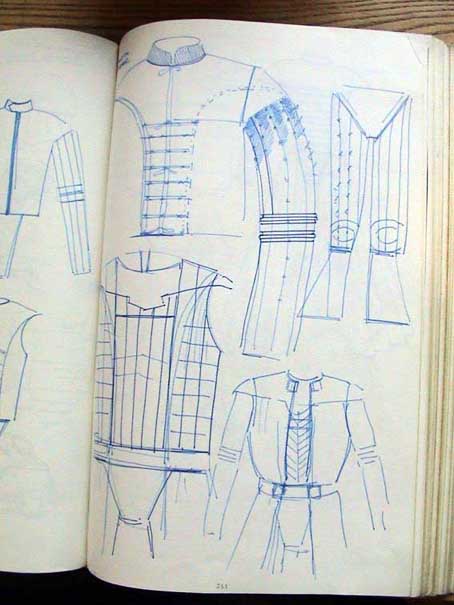 Above, Mollo's original Art Book/Diary from Jan 1976 showing the early evolution of the Darth Vader costume

Concentrating on the Darth Vader design – how was this derived?
McQuarrie had already produced a number of designs which showed the impression of what they were looking for, but it was our job to turn these into real working 3D costumes. Designs were discussed and at a production meeting on 16th January 1976 there was much progress in agreement over Vader and a number of the other designs.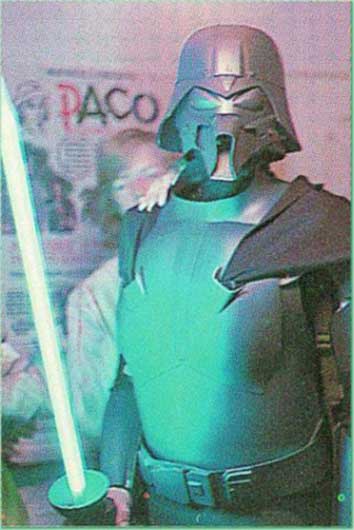 Note: They never saw the Joe Johnson McQuarrie "prototype" Vader costume (below) shown in the Chronicles book suggesting that it may well have been made AFTER the films release.

Studio modellers and the Art Department at Boreham Wood created a clay model (possibly in sections) of the Vader Helmet and Armour and over time this was refined. After the agreement from Lucas, a mould was made and the castings from this. This was the usual way we worked. The Sculptor for Vader was Brian Muir, with 3PO done by Liz Moore.

Above, copy of early Ralph McQuarrie Vader face detail which has quite a "bug" look to it.
For production, how many Vader Helmets were produced?
There was one main helmet plus a "double". Its quite possible there was also a fall-back (3rd) helmet but its unlikely there were any more.

As with Brian Muir, Mollo didn't directly recall the 2-tone colour scheme suggesting that this could well have been done at a later date and even on-set.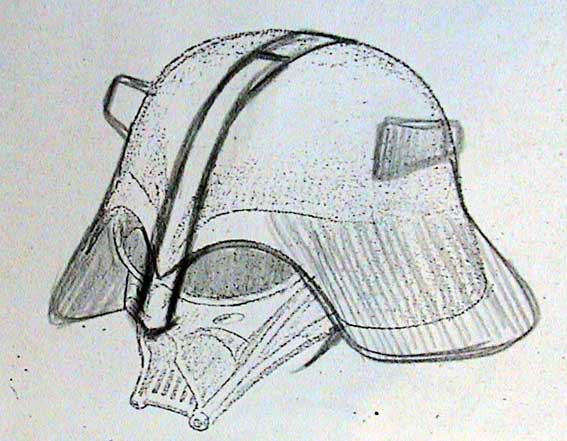 Above, copy Ralph McQuarrie Vader design, augmented by John Mollo which seem to have widened the dome centre section, as well as its lengthening and widening. An early idea of wings looks to have been dropped.
Moving onto Stormtroopers, Mollo said that they and many other of the helmets were the responsibility of Andrew Ainsworth at Shepperton Design Studios.
A rundown of the required costumes/helmets according to John Mollo's diary was as follows. Note that these did vary throughout the book (i.e. changed throughout production) although these look to be close to the final figures:

50 Stormtroopers + Han and Luke (its possible more Hero's were produced)
24 Cheesegrater (Black Imperial Guards – originally 20 ordered but then increased)
12 Jawbone (Death Star Gunner)
12 Helmets with Tubes (TIE Pilot)
40 Rebel troopers with black visor (orig 30) – Tantive IV Helmets
40 Rebel ground crew Helmets (orig 24) .
A note in Mollo's diary for 5th April '76 was for some extra work on chest/back connector bridges and knees etc. to turn Sandtrooper into Stormtrooper. This wasn't a specific task more general refinement.

The Sandtrooper Back Pack was the responsibility of the Elstree Art Department who "cobbled some bits together"

The gloves worn by the majority of Stormtroopers were made of rubber and had white vinyl "hand plate" patches stuck to them.

The Stormtrooper boots were standard Black UK "Chelsea" boots which were stained white (50 pairs of boots were ordered)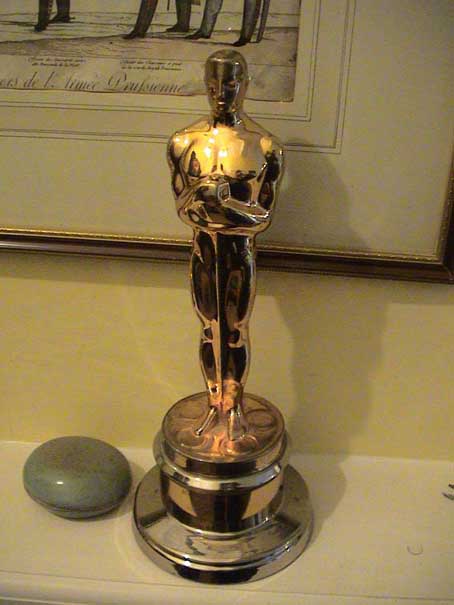 Above, Mollo's Oscar for Star Wars. One of two he owns having also been awarded one for his work on Richard Attenborough's Ghandi.