Sideshow's Life-Size R2-D2 and C-3PO and
Interview with "Robotman" Fred Barton
Update 28th March 2008 - Sideshow has finally released the first shots of their intended final production versions of the Threepio. Both will be limited runs of 250 per character (unless they decide to do "Alternate/Special" editions at a later date.......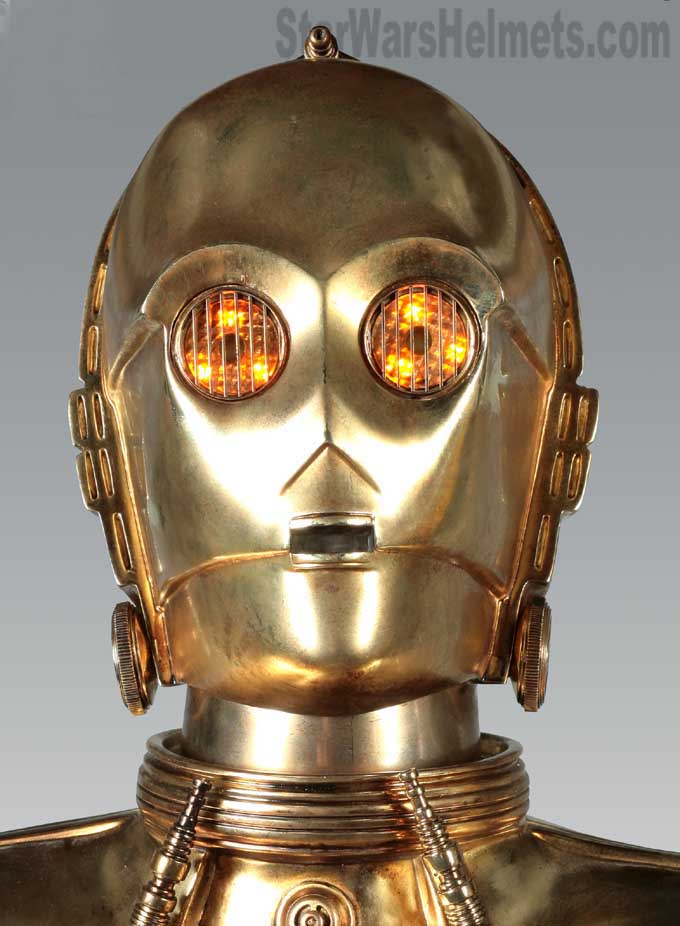 .....and Artoo life-size statues.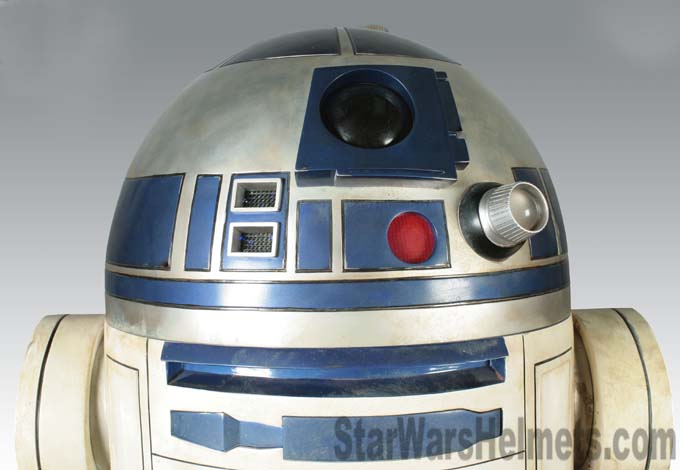 SSC's Life Size C-3PO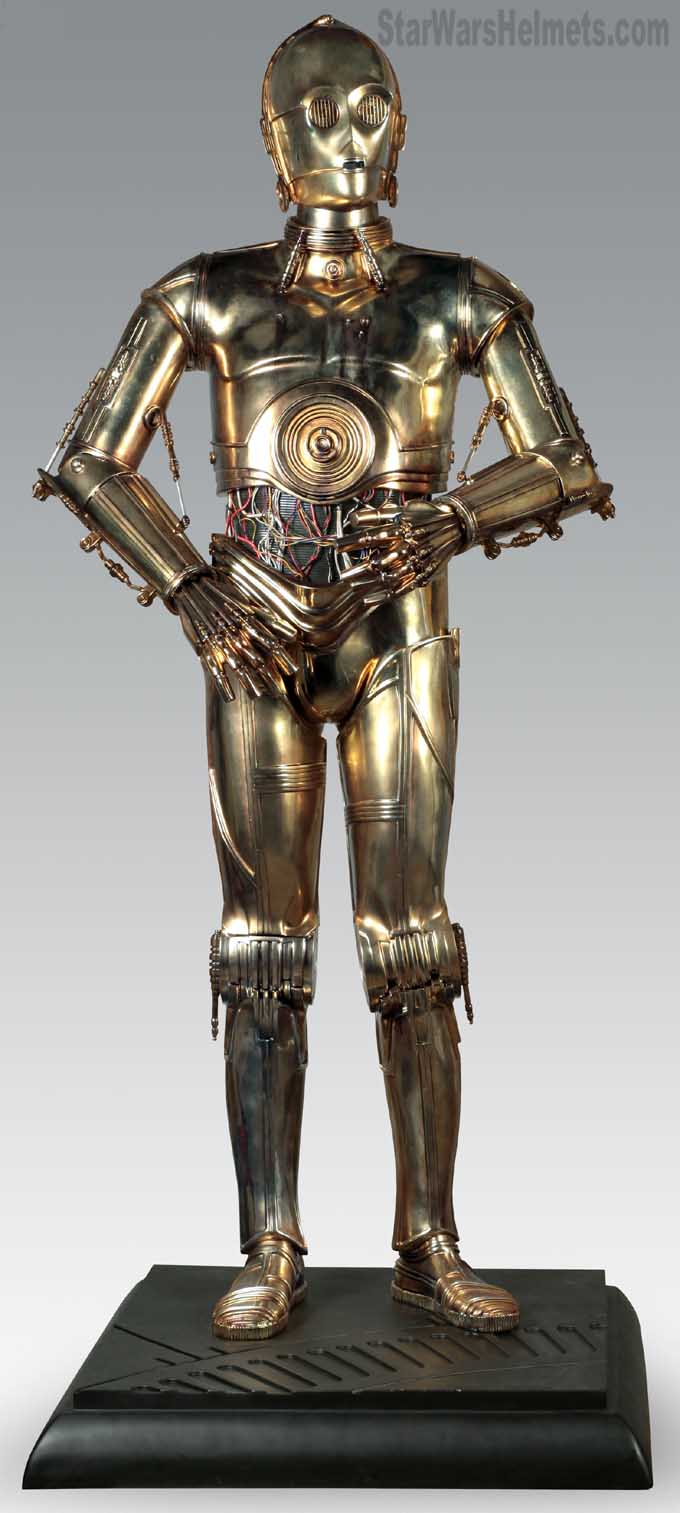 So first off with the C-3PO, Sideshow Collectibles' is saying that these "new C-3PO and R2-D2 are the most authentic life-size reproductions ever made available to private collectors", so they're clearly placing these above the Don Post in terms of accuracy. Interestingly Fred Barton sculpted these pieces using plans and the Archive originals, rather than simply cast a screen-used item. We're not sure if that was the best approach.....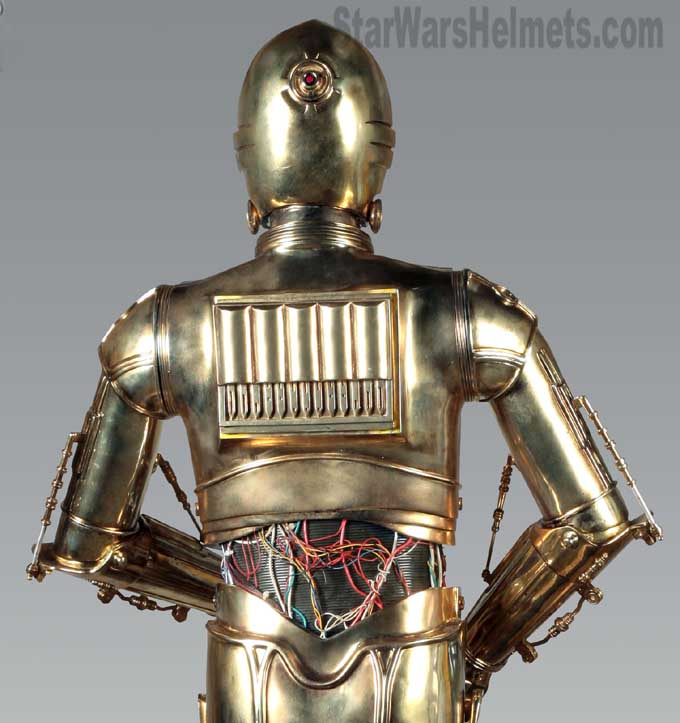 I'd like to get my hands on one of these so I could take my own photos as I don't believe the head/helmet pics are the most flattering - Sideshow- any chance of a review model?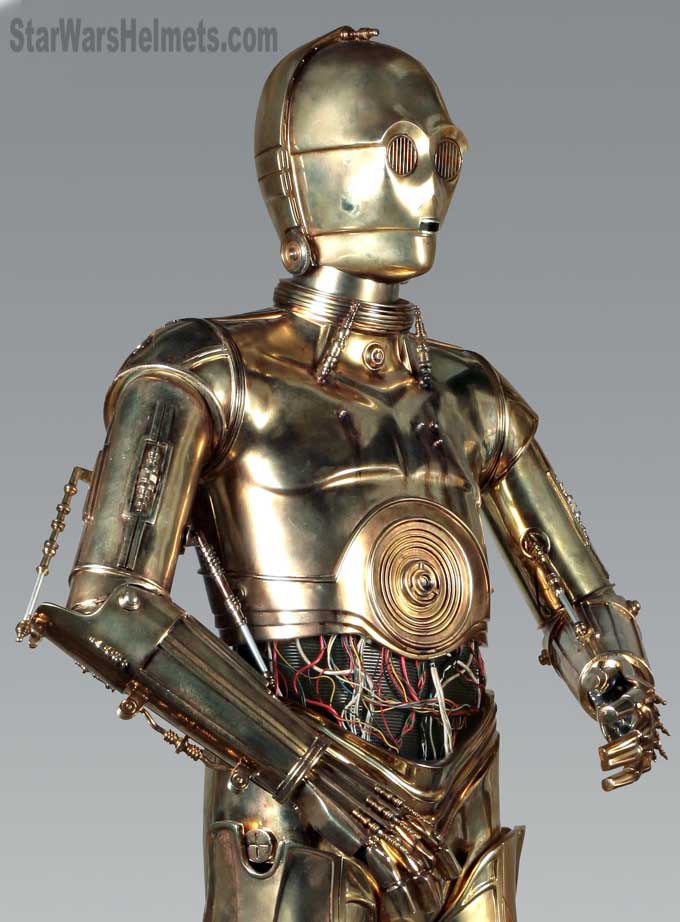 From these photos the finish looks like its been chromed, then a layer of weathering applied to make it match the way he looked throughout the majority of A New Hope.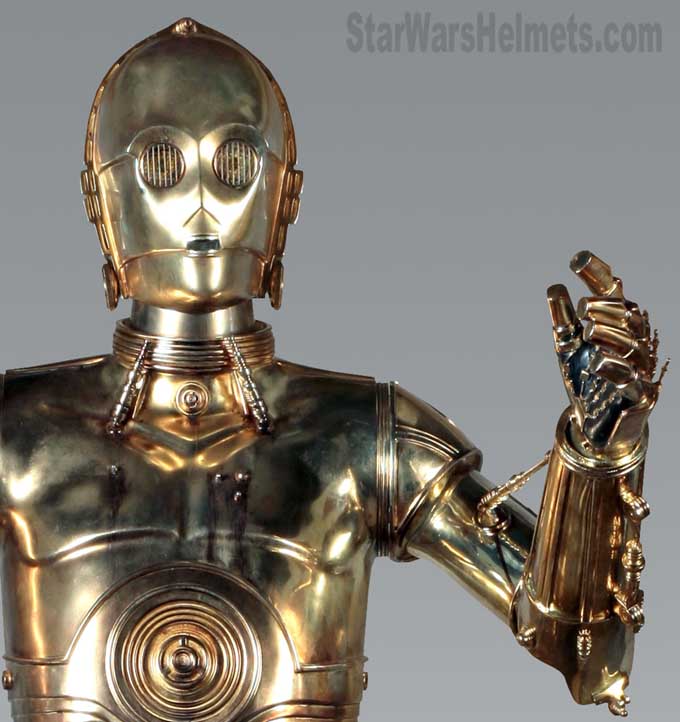 The wiring looks good and I like the fact that they've made the arms articulated. For more detail on how these life-sizes were designed and made see lower down the page in the Fred Barton interview. Finally, Ive produced this comparison shot below showing the original (L), New SSC (M) and Don Post (R)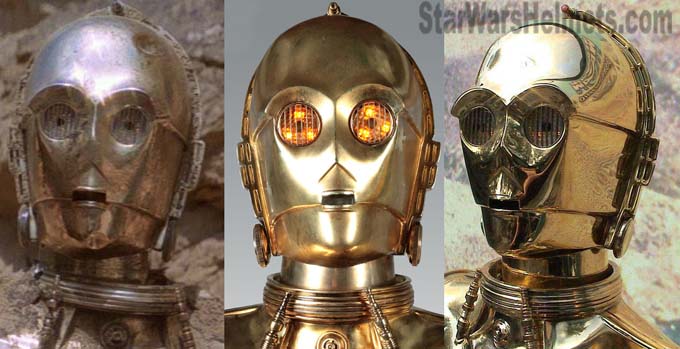 SSC's Life Size R2-D2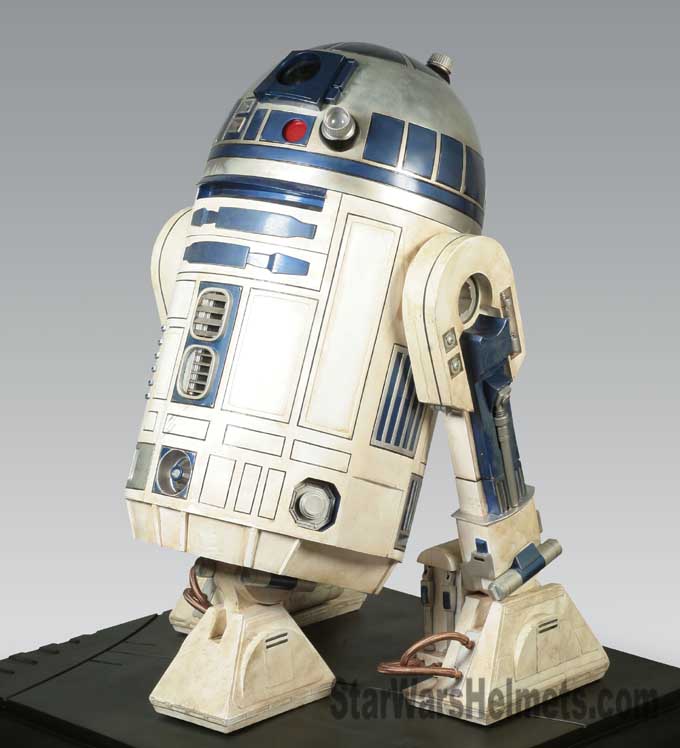 Next up Sideshow's Artoo, which like Threepio will begin shipping in 3rd Quarter 2008.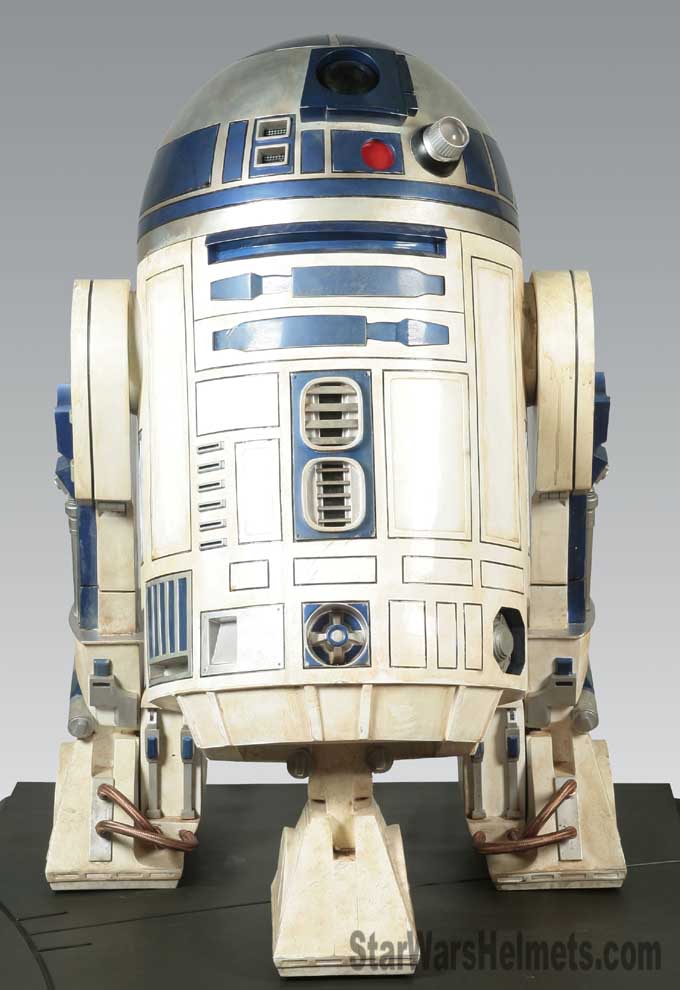 Both droids will according to SSC "include light and sound function, for the most 'real' experience possible", however the details on this are not clear yet but I'm sure will include various sampled beeps and whirls from Artoo with perhaps some Anthony Daniels recording?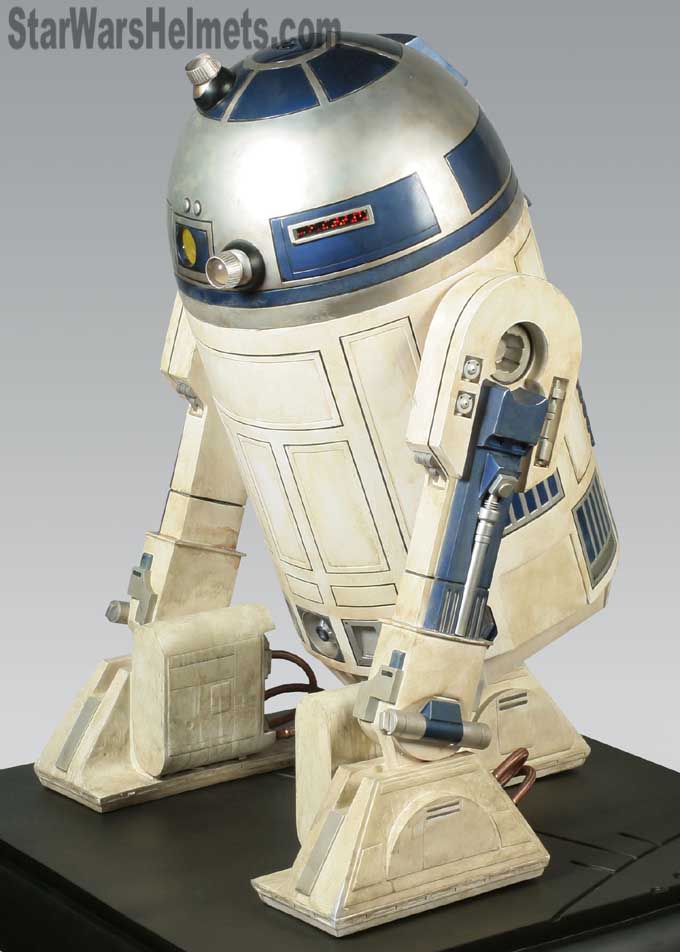 The base looks really nice and again is matching for both characters - looking like a floor tile from the Millennium Falcon. Another nice touch from Sideshow is the addition of a restraining bolt for both Droids, which will be engaged via a pair of magnets such that they locates in the right place. Nice touch!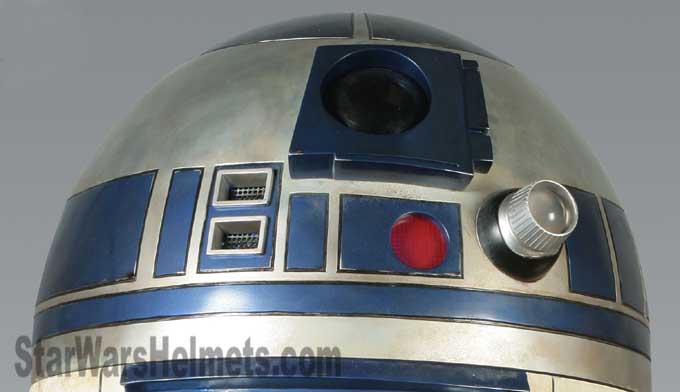 Interview with "Robotman" Fred Barton, designer of SSC's new Threepio and Artoo
February 2008 - Fred Barton has kindly given me an interview to discuss his work on his upcoming R2-D2 and C-3PO life size figures, which he's produced in conjunction with Sideshow Collectibles and Lucasfilm. For those of you who may not know, Fred's known as "The Robotman" for a very good reason since his great work in producing a range of replica sci-fi droids from Forbidden Planet's Robby the Robot to Battlestar Galactica's Cylon Centurion has cemented his position as leading provider of museum-quality Robot replicas. For more info on his fabulous range of droids visit www.the-robotman.com.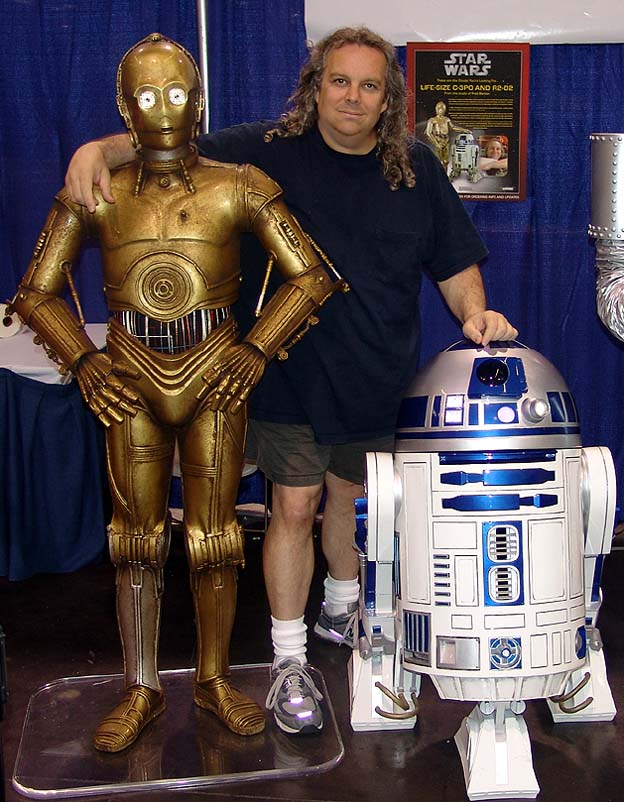 SWH.com - How have you created the 3PO likeness – did you cast a suit from the Lucasfilm archives, if so which one (one of the Revenge of the Sith droids)?

Fred - I made a mold directly off of Anthony Daniels himself, right out of the shower – it was a mind scrambler. Actually, Daniels is a real robot, he really is 3PO and wears a human costume off stage to blend in with the rest of the world. Who knew? But seriously, molding off of an archival piece is not always the best course of action for quality and control. For instance, although at my disposal, I didn't want to make a mold from the existing archived cylinders as they have already been so over molded and re-produced for so many droid suits, that they lost their fine detail and were warped. Not so you would notice on film, but in person, they just wouldn't cut it. I think the fans deserve the best possible first generation quality piece for their money. I used the same amazing machinist I use for my Robby's (Ed. Robby the Robot from Forbidden Planet). The new machined pieces are spec'd right off of the original droids and machined making them as straight and as sharp as possible.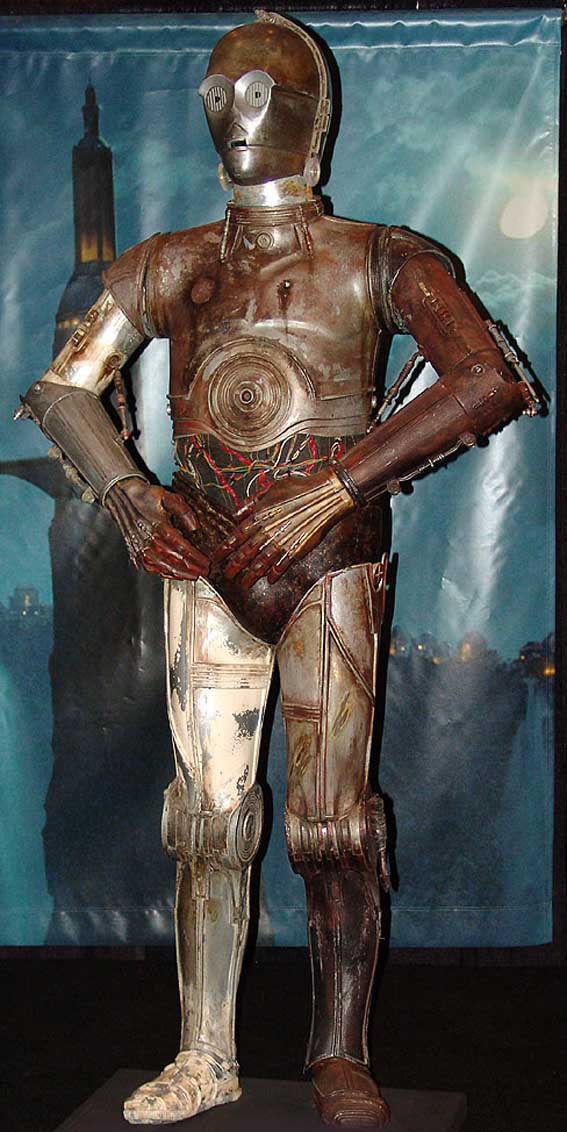 SWH.com - And what about your R2-D2 – did you cast your replica off an original or work from Lucasfilm production drawings?

Fred - It was the same deal for R2-D2 as C-3PO, we used all new remastered detail so everything produced was as spot on as we could possibly make it. Compare the shot of me at the archives with 3PO in his crate and my hand on R2 to the photo of me standing next to the shot my painted Prototypes, you'll know just how perfect the new pieces are.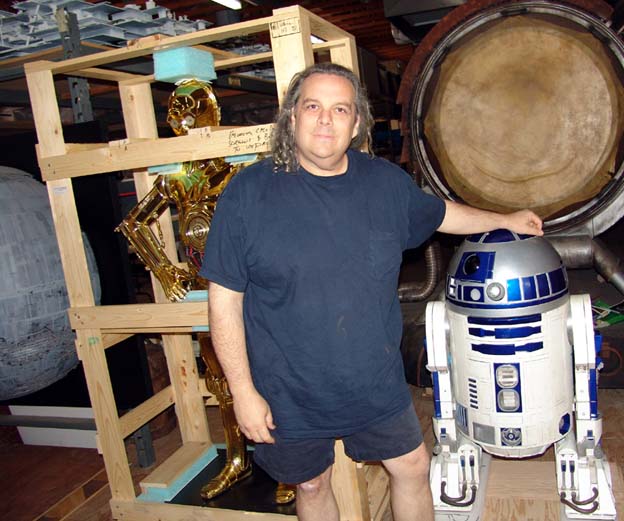 Fred - It was great having the original droids for reference. I can tell you I took advantage of every opportunity to make these droids as good or better than what seen on the big screen. My robot collectibles must look better than actual props. Always have. A prop is a prop, my robot collectibles are art, displayed in peoples homes. They have to be great. Both Don Bies and Tony Dyson have contacted me about my work and the new droids and both have given me their thumbs up. That really meant a lot to me. Who knows better than the guys who worked with them in all the movies? I consult with them from time to time about detail. Makes all the difference.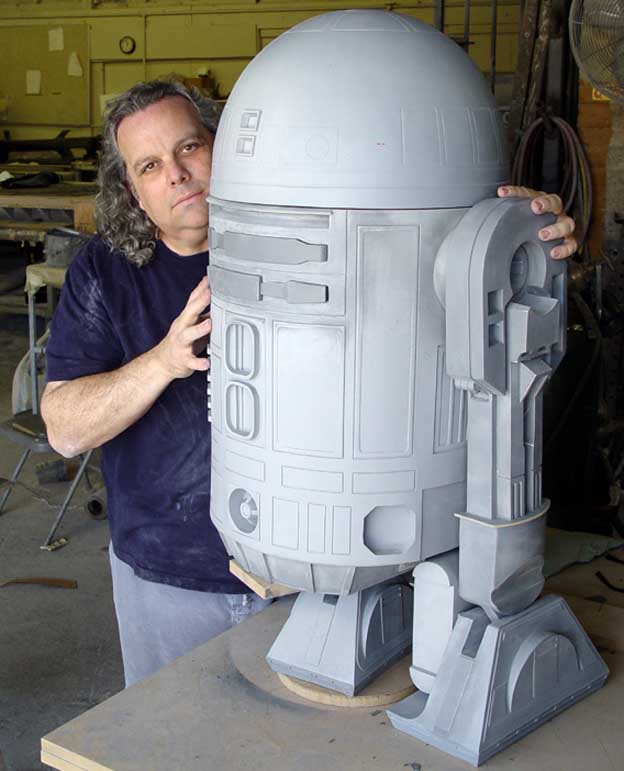 SWH.com - Fred, can you explain the manufacture process for your replica C-3PO. Do you produce a sculpt and then silicone moulds were made of it - which are subsequently used to cast in resin/fiberglass?

Fred - Many processes are used. Sculpting, casting, vacuum forming, machining, fiberglassing… I used all the same processes on the droids as I do the other 15 movie robots I make. Except "Tobor the Great". He's made from sheet aluminium. Whole different process.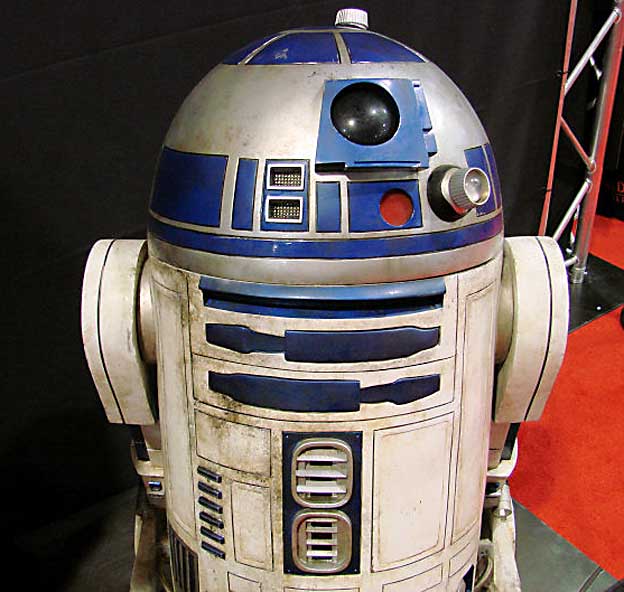 SWH.com - So will your replica R2-D2 be completely fiberglass or is the dome aluminium?

Fred - To keep the price down, it was decided to keep R2 all fibreglass. Many R2's over the years in different shots in various movies were also fibreglass. There is no real definitive head for R2. What we've done looks fantastic. You'd never know it wasn't aluminium. But you're wallet will.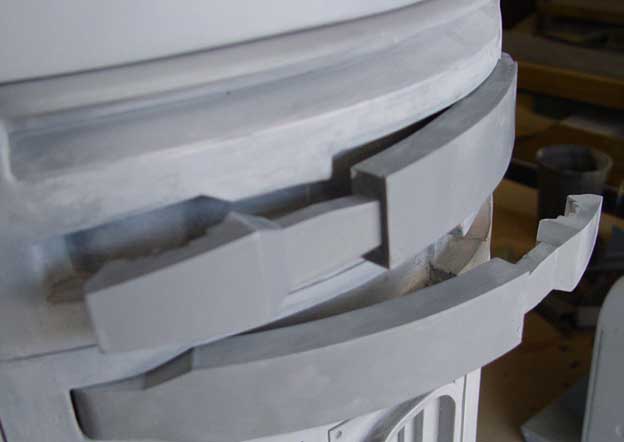 SWH.com - Back onto C-3PO, has the finish on this droid been finally decided, will Sideshow be adopting a shiny chrome or a duller paint/weathered finish?

Fred - C3PO will be fully plated, nice and shiny – not painted. He'll appear exactly as he did in Star Wars -A New Hope. Lucas would have it no other way. Neither would I!
SWH.com - Can you explain the Chrome Plating process you and Sideshow have used, is it like vacuum metalizing?

Fred - No, we've utilized a real plating process. No vacuum metalizing. It has to be more hard-wearing and the problem with Vacuum Metalizing is that it cracks over time and is just too thin. Here's a shot of our fully plated C-3PO, I think fans will like this.........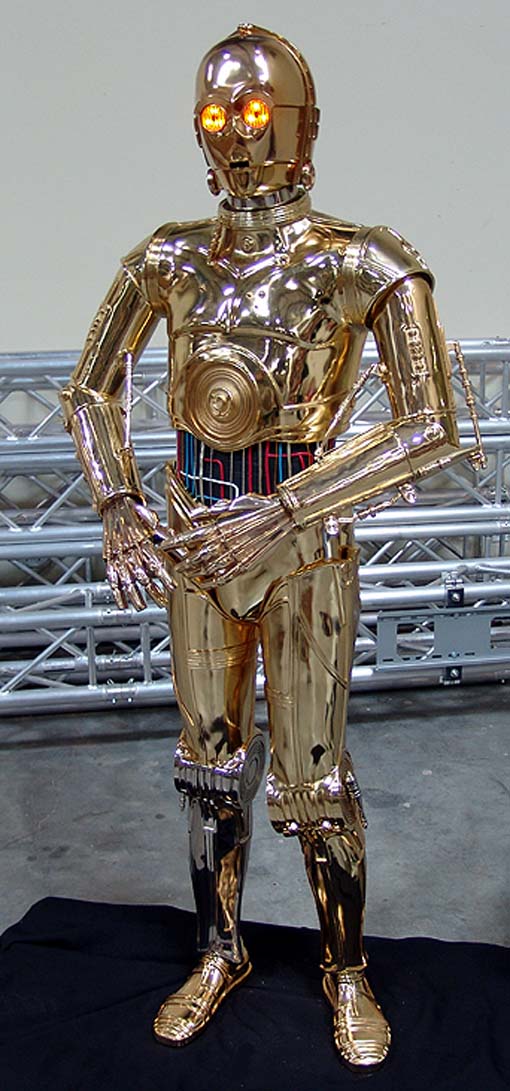 SWH.com - So Fred, how do you think your 3PO will compare with the Don Post statue? I believe the Don Post 3po was not actually 1:1 scale, but slightly smaller – what about yours?

Fred - My C-3PO and R2-D2 are the most definitive droid replicas ever made. The Don Post R2-D2 and C-3PO was shrunken and sunken in, melded in on itself, warped, and had a soft and molded look, not separate details and just a lot of problems. They would run their molds hot, meaning over-catalyze the fibreglass to cut down on curing time. This shrinks the resin even more making it brittle. They used thin gel-coats and fillers. Combine that with over-used, overheated rubber molds, you get a lot of size and detail issues. Each numbered piece was progressively worse and worse until at the end of the run, they were quite wrong. Plus, the Don Post R2 color was way off as well. We are using a special paint mix Don Bies adhered to over the years. I also posed C-3PO in a much more familiar stance. He is dead on accurate and the right size. Not slightly smaller.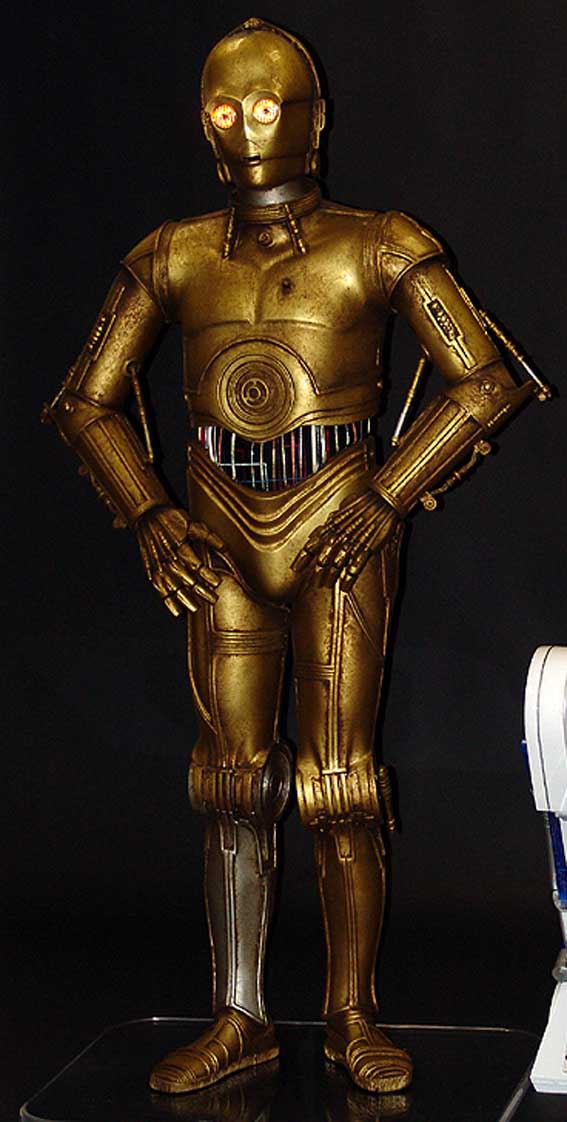 SWH.com - Will any part of your 3PO be movable, e.g. arms. What about R2-D2, will the 3rd leg or dome move?

Fred - Some parts are articulated on both, but again to keep the price down, they are not fully articulated nor should they be. These are full size studio scale statues, not 12" action figures. Parts are heavy and can break or wear out. It is best to look a these units, not play with them. They are pieces of art, not toys.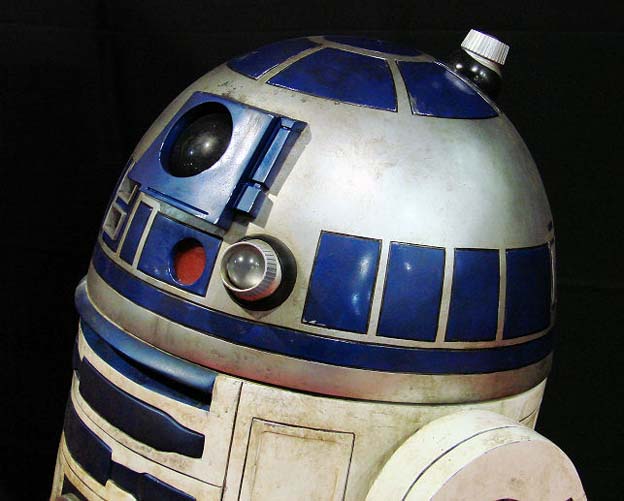 SWH.com - Have there been any discussions about making the R2 motorized? Do you think owners could retro fit a motor and controls?

Fred - There have been discussions for me to make a line of robotic 3PO's and R2's. I can't go into detail at this time. I don't know if you've seen my animatronic Robby but fans are going to be in for a treat!!!. As for retrofitting the pieces, I would advise against it. Doing anything to these guys will devalue them and as we all know, Sideshow pieces sell out and appreciate over time. I believe there are hobby clubs that people can join to custom out their home brew R2's. I would leave these pieces alone.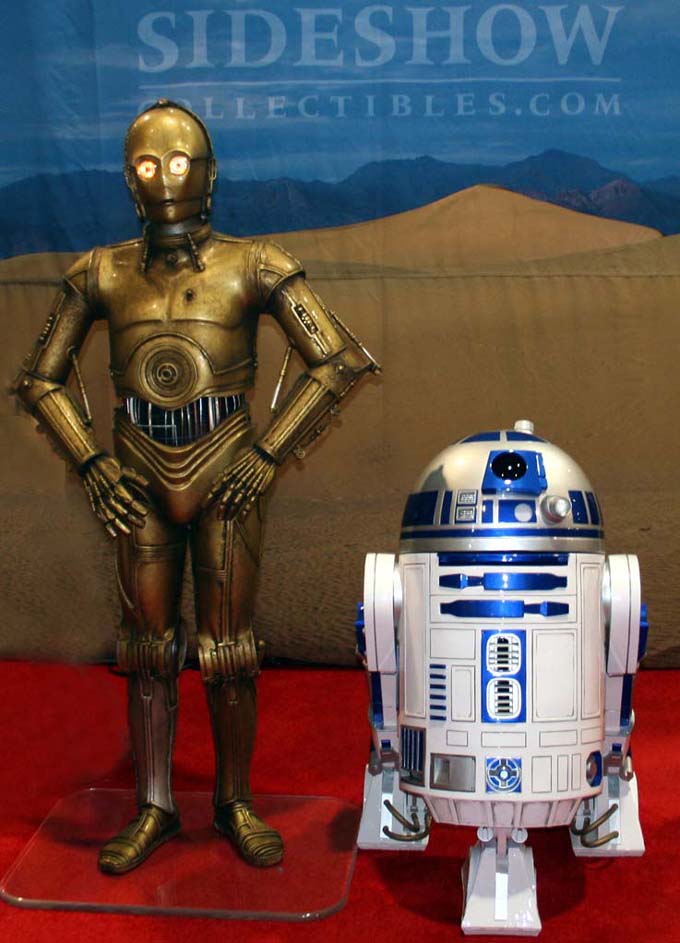 SWH.com - How close are you/Sideshow to finishing off the robots – we understand there's due an announcement from Sideshow in February.

Fred - Both R2-D2 and C-3PO are scheduled for release 2nd quarter of 2008 and things are right on schedule! We're working on the final designs now so we can agree all the remaining details like C-3PO's finish and whether he has messy ANH stomach wires or straight RotJ wiring.
SWH.com - Finally, was this your first encounter with Star Wars Droids?

FB - No, we used to go drinking in a little bar on Tatooine, where droids are allowed. Artoo can really put it away!

SWH.com - Fred, that really is excellent information - thank you very much for your time and please keep us updated on how the project progresses. Maybe you should tell Artoo to lay off the hard-stuff!
Note that all of the images on this page are of the various prototypes made in different stages and poses. --- Painted, plated, clean and distressed. The final production versions have not yet been decided on or released, but Fred insists that they will actually look better than anything posted at this time. Well I dont know about you but I'm excited!!!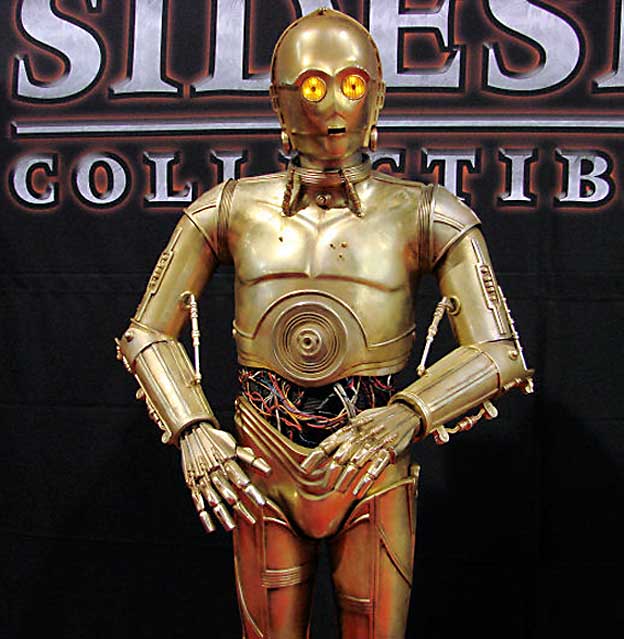 Thanks to Fred for the photos, additional photos taken by myself at San Diego Comic Con in Summer 2006 and Shadow from SDCC in Summer 2007.
Previous news July 2006 - One of the big news stories to come out of Comic Con 06 was that Sideshow now has the license to provide certain life-size Star Wars characters. I understand Lucasfilm has a slightly unusual way of managing their licenses in that any company can bid for any individual character - they don't assign a single license to cover all life-size characters. Looking back you may remember that when Don Post was producing The Stormtrooper, Boba Fett, C-3PO and R2-D2, it was Rubies who had the rights to Darth Vader. Odd! Anyway, onto the Droids.........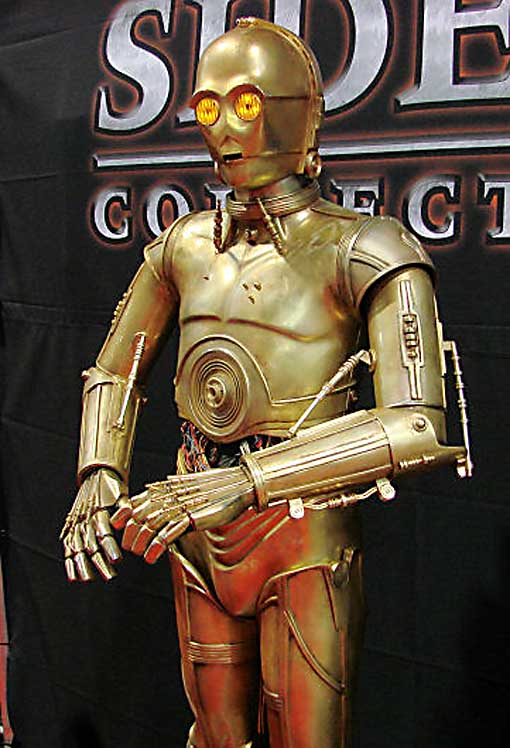 Okay, now before we start its worth pointing out that these are the prototype designs. When I spoke to the Sideshow representatives they really were at pains to point this out. Hence we're going to have to wait a while to find out the final specification.
Sideshow representatives said they were really against the clock in order to get them ready for Comic Con, and the finished versions will be significantly different. Looking initially at C-3PO, Sideshow said that the production version will be completely chromed and not painted gold, like this one is. Speaking with one of their production guys, they're planning on using the same liquid-chroming technique they used on the excellent Terminator life size. Given that's quite a benchmark it looks like we can expect the 3PO to retail at a similar $6,000 price tag. While not cheap that's still considerably less than you could find one of the excellent Don Post statues
While on the subject of the Don Post statue, the main (probably only) criticism of that was that it was not 1:1, but slightly but significantly undersized (never did find out why). I'm sure we're all hoping that Sideshow product will be full size, and therefore the most accurate licensed product available. Since a full-size 3PO has always been probably the ONE prop I've always wanted - I'll be watching this one with real interest.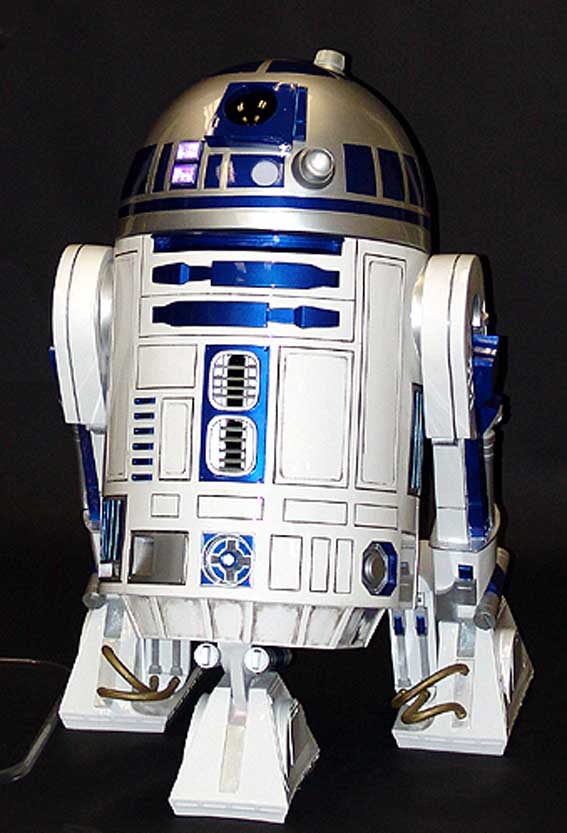 I have to say I don't know a shed-full about R2, but this little beastie looks excellent. The prototype they had in San Diego looked solid and significant, but I'm not sure if the final version will have any moving parts or not. As mentioned elsewhere, Sideshow Collectibles seem to be an outward looking company as they are doing their best to also help collectors outside the US (Master Replicas PLEASE take note). With this in mind, Sideshow now have distribution hubs in several regions of the World including one in Europe. Folks in Europe can take advantage of some pretty reasonable Dollar exchange rates, although not that you DO need to bear in mind that you have to add any local taxes you may have. In Europe these vary by Country from a VAT free Canary Islands to around 20% for UK. Either way its still a great deal from Sideshow.
for the main Sideshow Collectibles page click here
For Sideshow's Aliens, Terminator and
Predator Busts and Life-sizes click here for our sister site....